Studio B Sees Pucca to TV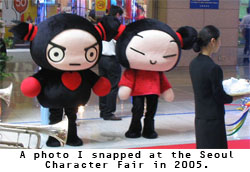 Had a chance to catch an episode of Pucca yet? We here at CHF have been sorrowfully quiet about this new Flash-animated series so far, but we'll catch up today.
Pucca currently airs in the Jetix block on Toon Disney, but it originated as an online series. The Korean studios VOOZ created the super-short shorts, and they were tight right from the start. They must've jacked-up the frame rate to 60fps, because those shorts just zipped along, but the blur effects and tight timing surely helped. I've gotta give credit to Eric Pringle and Matt Danner (The Go! Go! Moba Boy! duo) for turning me onto this great series.
Now the TV series is produced by Studio B Productions, and the show looks excellent. Here's a few clips to get you started:
Slam Bam Birthday Bash

Flower Power

There are no comments yet, add one below.