Fatkat's Adventures With Cloe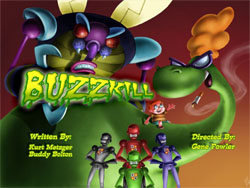 Fatkat Animation is on a tear. Last year they booked their biggest gig ever – fistfulls of Happy Tree Friends episodes. They've also been pushing hard on the original series front and beatin' the bushes at the various TV and media conferences; cutting deals and selling shows.
My Adventures With Cloe is a new animated series aimed at adults created by Buddy Bolton and Chris Siemasko (this duo also created the series Boy Sheriff with the Fatkat gang). Cloe is a "pleasantly violent parody of a Saturday morning cartoon," and while the animation isn't the finest in town, the script really delivers the goods. The Fatkat team, based in New Brunswick, Canada, recently boarded a plane for Las Vegas for the NATPE event.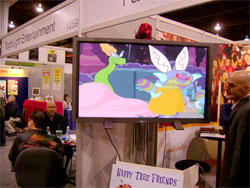 Having just signed a distribution deal with the Just For Laughs group, they unfurled their new trade show booth and the My Adventures With Cloe pilot. They impressed the head writer for The Tonight Show With Jay Leno, and next they're on to KidScreen in New York. So, settle in and enjoy the full 12-minute pilot episode (language NSFW).
To read more about My Adventures With Cloe, check out the series blog. and for more on Fatkat, check out the CHF interview with Gene Fowler, the founder of the studio.