Artix Conquers YouTube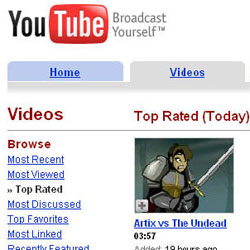 Back in late October of 2006, Alan Smithee's elaborate Artix vs. The Undead, which was commissioned by battleon.com, rocketed to the top of the YouTube ratings, racking up almost 500,000 views. Concurrently, the film has also been screened 450,000 times on Google video.
The action-heavy short is based on DoomWood from the extremely popular DragonFable RPG, and it was promoted on battleon.com, one of the top 1,000 websites in the world.
If you've been following this site, you may have watched Smithee's Akumi series. The second episode just released last month.