Bahrani's Love Story Teaser – Everloving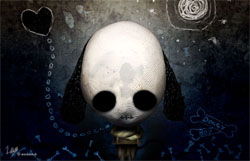 Laith Bahrani, the UK Flash-animator behind MTV's Low Morale, has released a teaser for his new project Everloving. The music video features music by Moby, and Bahrani's plan is to eventually get his full support for the project, which will end around 4 minutes in length.
The teaser hints at a love story between a prisoner and a firefly, and more development artwork can be seen at Bahrani's torchlight gallery, his entertaining approach to displaying development artwork.
For more on Laith and his work, check out his Cold Hard Flash interview from March of 2005.