John K Dials Up Raketu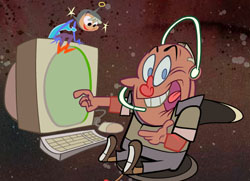 John Kricfalusi, the creator of The Ren and Stimpy Show, has teamed up with Raketu, the VOIP provider, to produce a few new Flash-animated cartoons.
On the Raketu.com website, you can now see George Liquor, Sody Pop and Bobby Bigloaf promoting different aspects of Raketu's product line.
John K has been chronicling his latest project on his extremely popular blog All Kinds of Stuff. He recently posted a short Quicktime file of the mouth cycles from the Bobby Bigloaf short. For anyone trying to harness the wonders of limited animation, look no further. Using Roger Ramjet as an example, John offers a clinic in how to make every drawing count.
There are no comments yet, add one below.