Los Campeones de La Lucha Animatics
Eddie Mort and Lili Chin, the creators of one of the first Flash-animated TV series ¡Mucha Lucha!, have embarked on an independent feature. Los Campeones de la Lucha is also being animated in Flash, and the team is now churning out the animatic. Below are three clips which Eddie and Lili recently released on their blog.
storyboard drawings by Eddie Mort
Sorpresa vs Abuela Extremo from Act 3
storyboard drawings by Rafael Navarro
Meeting Rayo X from Act 1
storyboard drawings by Eddie Mort
Eddie shared a few thoughts with me this week on the making of the film.
AARON SIMPSON: What have you and Lili learned through the process of making Los Campeones?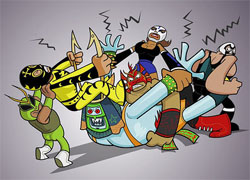 EDDIE MORT: Los Campeones shows that you don't necessarily have to go the traditional US broadcast way to get your ideas into production. Of course it means we work with an 'independent movie' size budget, but it has also allowed us to have total freedom in all aspects of the design, script and story content. The film is being financed by TV Azteca in Mexico, for their new Features division. The plan is to first release and establish the film theatrically in Mexico, with other countries to follow.
AARON: What's your crew like?
EDDIE: It's a skeleton! Lili Chin is taking care of designs, turnarounds, character poses, color styling, animatics, etc etc etc. I'm doing designs, storyboards, BG Layouts, animatics, script editing, voice direction, film direction, some music. The rest were freelancers – Rafael Navarro did storyboards for Act 3, Jake Bauming did storyboards for Act 2, Monkey Paw Media have been doing BG keys and Evan Newby did some additional designs. And we have DJ/Composer Phofo as Music Supervisor.
AARON: Who is animating the film?
EDDIE: We will be taking care of some of the actual animation ourselves, but using another studio for the majority of the film.