Meat Loaf Dines on Flash Animation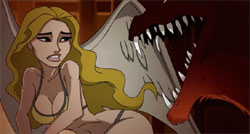 Camp Chaos and the animation studio called Two Animators recently teamed up to produce a 7-minute concert video titled The Monster Is Loose for the rock singer Meat Loaf. The video isn't available on the web yet, but you can be we'll be let you know when it is.
Back in August of 2006, CHF reported on the pairing of these two studios, and a 12-episode series called The Smallie Biggs Show has also been announced. You can see a short clip below and several other clips on YouTube.
Beyond that, Two Animators have also been busy on a project with PAC Entertainment to produce a TV series sample for a show called Captain Ollie's Water World. You can watch the video over on the Two Animators site now.