Business Week Explores Japanese Flash Animators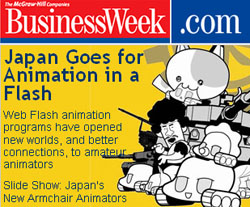 The lead story in the Asia section of Business Week online is titled Japan Goes for Animation in a Flash. Written by Hiroko Tashiro, a writer in Business Week's Tokyo bureau, the article details Ryo Ono's recent success with Sguy and the Family Stone, or Sugai-kun as its called in Japan. According to the article, Ono self-published his own DVDs, eventually selling 5,600 copies and nearly US$100,000. In the article's accompanying image gallery The Adventures of Yawaraka Tank is mentioned along with Hazumu Sakuta's Dark Cat, projects regularly discussed on the Japanese Flash-focused blog Flagama.
Two Flash-animated features are also discussed; Eagle Talon, which was discussed here a few weeks back, and Coffy the Cemetery Girl. The article touches on the lower animation quality of these projects, which I wouldn't argue with. But quality isn't the focus of the article – instead it's about how one animator can reach a massive audience.
Tashiro unveils some mis-information (that Flash is common "in most web browsers" – untrue: the Flash Player is in most web browsers), but also some great quotes:
Yet today Japan is a country of armchair animators who are shaking up the whole anime studio system. An aspiring animator with a desktop PC, some server capacity, and good working knowledge of multimedia programs such as Adobe Flash (or the Macromedia Flash and Shockwave Player programs) can generate professional animation that instantaneously can reach a global audience."Individual creators had few ways of getting their work seen by ordinary people, but with Flash and a broadband connection, they could put their animation out on the market in an unconventional way," says Makoto Sayama, an anime creator who organized the Japan Web Anime Convention (JAWACON) in Osaka in 2005 to provide business opportunities for independent creators.

"Flash animation is the future shape of Japanese cartoons and animation," figures Kentaro Takemura, a critic who teaches the history of manga and anime at Tama Art University. "One individual can do everything on a low budget."
Notably missing from this Japanese Flash animation round-up are Ryosuke Aoike and Miyasuke, the person behind Nightmare City, a huge cult-hit on the internet.