Ripping Friends Controversy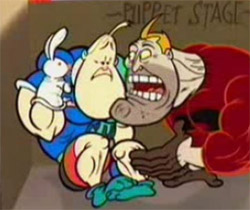 The Camp Chaos gang recently produced a short clip for The Ecozone Project, a new syndicated TV show hosted by Daisy Fuentes, the model and fashion designer. The 'webisode,' which stars Dirk Greenhouse, is available for viewing at ecozone.tv, and it features Flash animation by the Camp Chaos team.
Amid over at Cartoon Brew posted an indictment of the work, pointing out striking similarities to John K's The Ripping Friends series, which ran on Fox for one season back in 2001. Bob Cesca defends his studio's work in the comments, after some pointed remarks by Stephen Worth, a Spümcø studio vet.
Camp Chaos is the same studio behind Heavy.com's Flash-animated series Superficial Friends.