Monkmus and Los Campesinos go Dancing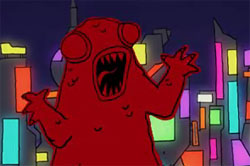 Illstrator and animator Monkmus has directed a second music video for the UK-band Los Campesinos! Produced by Hornet Inc., You! Me! Dancing! captures more of the disco battle that began in the video for We Throw Parties, You Throw Knives.
Monkmus had animation help from Simon Ampel.
[link]
Related Posts
Dan & Jason, a directing duo featured here a number of times, are going to make you enjoy a medical supply commercial for the very …

Using Flash, 3DSMax and After Effects, director Guilherme Marcondes produced an intriguing new short that blends live action footage with vivid, animated characters. Below is …

Hornet Inc's directing duo Dan & Jason have just delivered a new spot for PPL Electric Utilities. The ad, titled Birds, was drawn in Flash, …

February 21, 2012

by

aaron

On the heels of developing their Office Buddies series with 20th Century Fox, the animation directing duo known as Dan & Jason have revealed their …