Spending Cash With Cold Hard Flash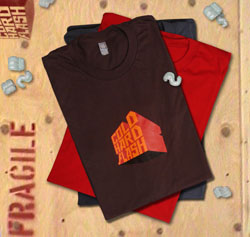 Today is the official launch of the Cold Hard Flash Store. There's actually been a store on the site for a while, but it's primarily a repository for Flash-animated DVDs we link to on Amazon. This section is now called 'Products,' and the brand-new Store features 3 new t-shirts, all screen-printed on American Apparel 100% cotton, pre-shrunk material.
The proceeds from the store aren't padding the Cold Hard pockets, but will instead be dumped into the CHF redesign fund. This project is already underway with some exceptional developers, and it's shaping up to be something quite special indeed.

Amplifier, an Austin-based distribution company who specialize in businesses with online audiences, built the store. They've got quite the client roster, which includes Penny Arcade, JibJab, Ask a Ninja, Despair.com and Rooster Teeth, the gang behind Red vs. Blue. I've spent time with these fine people in Austin, and I've been bragging about them ever since. A big CHF thanks to Greg, Brenda, Thomas, Macon, Jud, John, Marc, Becky, Jef and Joel.
This seems like a good a time as any to announce that I'm officially independent. Cold Hard is now my full time job, and along with a small team of people far smarter than me, we're going to see just how far we can take this. Consulting is the primary business right now and as the new site launches this summer, the second half of the equation will begin.