Bogaty Deals For a Few Droids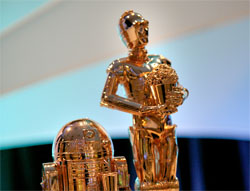 As announced here a week back, the Star Wars Fan Movie Challenge was recently held at AtomFilms. CHF regular Anton Bogaty took home some hardware for Best Animated Movie for his short IG-88: The Dancing Robot.
Congrats to all who entered and to the winners.
Thanks to Spencer Brinkerhoff III for the story tip.
Related Posts
There's a million funny or cute cat videos on the interwebs, but have you wondered where they're all coming from? Anton Bogaty may have the …

September 8, 2014

by

aaron

Unicorn's aren't real, but the hemorrhage you'll have in your brain after watching this will be. It's titled The Sting of the Unicorn, and it's …

Kurtis Scott has gotten exclusive, behind-the-scenes access to the highly secretive Star Wars Episode VII casting sessions. You'll be surprised who showed up…

Anton Bogaty must have had a fever dream, and then transcribed it into this new short. No Blood Eggs! is part of Bogaty's return to …
There are no comments yet, add one below.