Gilardi Animates Jerry's Daily Grind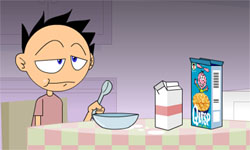 Max Gilardi, a 19-year old animator from Massachusetts, has released his latest animated short titled Jerry at Newgrounds.com. Gilardi has enjoyed a great deal of success on Newgrounds in the past, primarily for his Maxwell Edison short, which has been viewed over a million times.
The tale of Jerry's simple life features no dialog, an incredible amount of repetition and I found it highly entertaining.
For more on Gilardi, head on over to Newgrounds to read a 2004 interview.
[link]
Related Posts
November 19, 2014

by

aaron

At this weekend's Animation Breakdown event, Newgrounds takes over at 10:30 pm on Sunday night. Hosted at Cinefamliy on Fairfax Avenue in Los Angeles, the …

November 3, 2014

by

aaron

In 2004, I was working at Warner Bros. TV Animation, hoping to convince the senior management that Flash was a viable TV production tool. Flash …

Max Gilardi (aka Hotdiggedydemon) has cast Luigi as the idiot younger brother in a new animated short titled Luigi's Day Out. Max has always managed …

November 25, 2013

by

aaron

Salad Fingers is nearly 10 years old. David Firth first came to fame by way of the Flash-animated project on sites like Newgrounds back in …