Comic-Con 2007 Wrap-up
Whew! I thought LA had traffic, but I believe the Comic-Con crush takes the cake. I often stood in the same place for minutes at a time, waiting for the surge of people to thin out and move forward.
Human pinball aside, I always look forward to Comic-Con – its where I often meet Flash animation gurus who I've only shared email exchanges with. I spent several hours chatting with Shad Petosky and Julia Vickerman from Puny Entertainment, talking about the up-and-coming Minneapolis studio. They introduced me to Yo Gabba Gabba's Kevin Lee, and we talked about upcoming premiere on Nick Jr.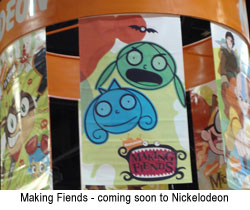 Speaking of Nick – I also spotted a banner for Making Fiends, Amy Winfrey's Flash animated series scheduled to launch on Nickelodeon. From what I've heard, a significant portion of production has wrapped, so the premiere can't be far off.
Like last year, I bumped into Tom Fulp who heads up Newgrounds.com. I picked up a t-shirt and discussed some new figurines they're planning to release, their upcoming game Castle Crashers, and Tom's commitment to getting his hands dirty on the games and animation produced out his Philadelphia office.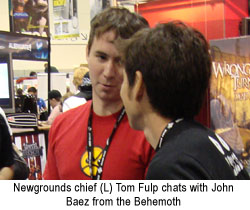 But I met someone new at the booth – John Baez, one of the founders of The Behemoth, the game studio behind Alien Hominid. Baez and Fulp have teamed up on this venture, which has received a great deal of press and awards.
I scheduled some time to meet up with Ghostbot crew, who I'd only shared emails with, dating back to the CHF interview in 2005.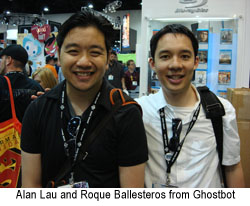 But first I dropped in on their autograph session, where Alan Lau, Brad Rau and Roque Ballesteros were busy inking some of their signature characters for waiting fans. Afterwards we talked Flash animation, series development and some recent work for Warner Bros. I'm planning on writing up before long.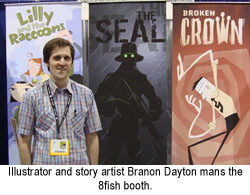 Six Point Harness artists Saharat Tantivaranyoo tipped me off about 8fish, a relatively new Flash animation studio based in Sandy, Utam. They were showing off 3 original series concepts and screening samples of their work.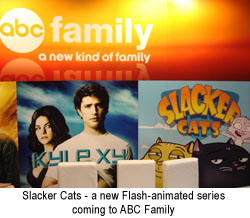 Just walking the floor, I also spotted a banner for ABC Family's new Flash-animated series Slacker Cats. The primetime series has been touched by several LA-based studios, including Film Roman, Six Point Harness, Renegade and Animax and it is schedule to premiere on August 13th.
Lastly, I happened by the College University booth, which sat adjacent to Newgrounds and the Behemoth.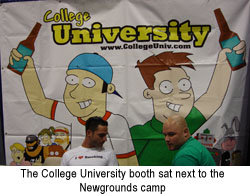 I talked with Mike Parker, swapped stickers and had a look at their latest DVD release, which features season 2 of College University. Mike and his brother Andy have also been hard at work on Clock Suckers, which airs on collegehumor.com.
Here's a tip – start planning for next year – as I'm sure hotel rooms are already getting booked up.