GameTap Envisions New Tomb Raider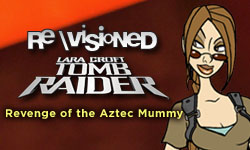 GameTap, the broadband gaming network, has begun releasing a series of 10 animated shorts as part of a series called Re\Visioned. The first video game to get re-imagined is Tomb Raider, and on July 10th, the first of 10 new episodes released on the site. Yesterday the 4th installment launched. Titled Revenge of the Aztec Mummy (below), Lara Croft was voiced by Minnie Driver, designed by David Álvarez, scripted by Brian Pulido and brought to life by Turner Studios, the Flash animation team behind Adult Swim shows Harvey Birdman: Attorney at Law (series finale this Sunday) and Stroker and Hoop. Episode 8, Pre-Teen Raider, is due out in less than a month, and features Flash animation by Six Point Harness.

Aztec Mummy was produced by Elliot Blake, and the animation team included Steve Vitale, Bryan Capik, Les Harper, Jon Henshaw, Mario Orlando, Jamal Otolorin, and Darrell Phillips. Vitale directed the animation for Aztec Mummy, while you can see Harper's direction in the upcoming episode Legacy.