INTERspectacular Heads Up Nicktoons Rebranding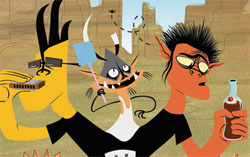 INTERspectacular, a concept, design and animation studio in New York City, has re-branded Nicktoons Network's 3 Headed Monster block with new logos, graphics and animated bumpers. INTERspectacular's Creative Directors Luis Blanco and Michael Uman teamed up with character designer Joel Trussell to create a 3-headed monster with distinct personalities: Friday, Saturday and Sunday (the block airs Fri-Sun from 7pm to 1am).
The design and animation team included Josh Pelzek, Devin Clark, Efrain Cintron, Euralis Weekes, Sybille Schenker, Alberto Cerriteno and Andrew Macfarlane. INTERspectacular Executive Producer Greg Babiuk tapped Blanco and Uman to voice the monsters. To see handfuls of animated bumpers, head over the INTERspectacular site and below is one titled Mirror.