Pitch Pros Preach Passion and Persistence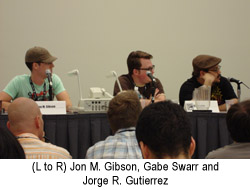 At the 2007 San Diego Comic-Con, I attended the 5th Annual Pitching an Animated Show panel, which was again hosted by animation writer/creator Jon M. Gibson. The panelists covered topics that I'm sure many CHF readers are interested in (myself included), so I took some notes and will regurgitate here.
Heather Kenyon, the senior director of development of original animation for Cartoon Network, said that a good pitch should have strong characters – the type that could hold our attention in an episode taking place in an empty room. Kenyon said her studio has even optioned a show after seeing only evocative drawings of characters in action – displaying their personalities with crystal clarity.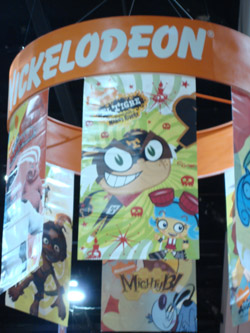 This type of advice sounds obvious, as Eric Coleman, VP of Animation, Development & Production at Nickelodeon, pointed out, but they assured us that unique, vivid and likable new characters are hard to find. The mantra repeated by all panelists seemed to be "know your characters" and avoid the common trap of the main character being the least interesting one in the bunch. Again, this sounds obvious, but Jill Stewart, manager of Original Series at Disney Channel Animation, said that she hears many pitches where the lead character is introduced as "just a regular guy."
Kenyon also added that a good exec will be reviewing you as well as the pitch. Knowing that you'll be a pleasant person to work with goes a long way for these buyers, especially when you consider that development can take 2 or even 3 years. This is exactly how long it took to launch Nick's El Tigre: The Adventures of Manny Rivera which was created by Sandra Equihua and her husband Jorge Gutierrez – also a panelist at the event.
Other words of wisdom heard on the panel included:
Write complete episode synopses – don't just set up the story and cop out with "and the gang has to get out of another jam."
Eric Coleman offered another seemingly obvious thought – that if you're pitching a comedy your pitch should be, well, funny. The development execs on the panel said that they hear countless pitches claiming to be "funny like

The Simpsons

" but unless you can illustrate that in the room, they "won't buy the show to see if that's actually the case," said Kenyon. I couldn't agree more – and feel that if you're not the type of person who makes your friends laugh, you might want to team up with a writer who does. My good pal Heath Corson, a talented comedy writer, could read the want ads in the pitch room and leave the meeting in stitches (ironically the same reason he doesn't need to read the want ads).
There seems to be an inverse relationship between the level of pitch bible "frills" and the quality of the idea. Meaning that if your pitch pack for a treasure hunter show is delivered to a studio locked inside an elaborate chest of gold coins – you should have spent less time mining eBay for miniature treasure chests and more time ensuring you've created unique, likable characters. And aim for a low page count – six or seven pages.
Know both who you're pitching to and what the network is broadcasting. If you're not up to date on their current slate, take in some episodes or at least read some synopses on tv.com or similar site.
Gutierrez suggested that getting a job in the industry is a great way to grow towards a successful pitching career. He claimed to have been turned down in hundreds of pitch meetings before he and his wife Sandra cracked through with

El Tigre

. Coleman chipped in adding that he personally watched Jorge's pitches improve over time – so stick with it and invite feedback from your friends.
It was also suggested to those outside of California that you pick up stakes and move to LA. Not exactly what you want to hear as you're readying your pitch materials out in Vancouver or Austin, and I'm sure there's plenty of success stories that offer hope to those outside of the LA bubble.
Don't pitch your "baby" that's been slowly crafted over the last 7 years – something Mike Moon, VP of animation at Disney Channel cautioned against. Gutierrez likened the pitch process to a battlefront – fearless pitching of concept after concept while your ideas are bombed into submission along the way. Bottom line – if you have one idea, you might just want to make that one yourself.
If you have access to the network execs, ask what they're looking for (see below). Or wrap up your meeting with a chat about their current "wants."
On that note, I'll list out what the three represented studios are looking for, which tends to change a bit from year to year.
Nickelodeon – Eric Coleman said they're looking for comedy and kid heroes with breakout personalities. He said the ideal show will have kid or kid-like characters – ala Spongebob, who flips burgers (a first job) and is seeking his boating license (driver's license).
Cartoon Network – Heather Kenyon is after 6-11 boy-skewing shows, both action-adventure (think

Ben 10

) and comedies (think

Camp Lazlo

) alike. CN is also launching a Primetime block filled with animated sitcoms – like an age-appropriate

Simpsons

. Some will be live-action, some animated, while others will feature a mixture of both. For more insight on Cartoon Network's development plans, check out this great post on Fatkat's blog.
Disney – Mike Moon kept his needs short and sweet: gender-neutral, kid-relatable and no action shows.
I encourage anyone mentioned above to correct or elaborate on what I've written, as I paraphrased a bit. And remember that these "rules" are broken en route to success, but it can't hurt to soak this info in before embarking on a pitch tour.