FlickerLab Hits Jackpot With Pink Panther Spot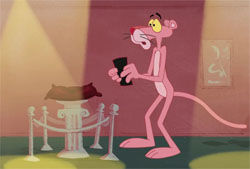 FlickerLab, the New York production, design and animation company, recently worked on a 30-second animation for the Virginia Lottery. The spot features the enigmatic Pink Panther, who was originally designed by the late Hawley Pratt – one of my favorite Golden Books illustrators.
The project originated out of +SmithGifford, a full-service advertising agency based in Virginia. They invited FlickerLab to participate in the scripting, storyboarding and design of the project, which will be screened in Virginia theaters starting August 6th. To bring the spot to life, the FlickerLab team utilized Adobe After Effects, Photoshop, Illustrator, Flash and Cintiq monitors. The production team included animator Thomas Smolenski, who has been featured here before for his work on NBC's Pale Force.

For more information on the project, head over to Animation Magazine.