Renegade Cooks Up Olive Oyl Spot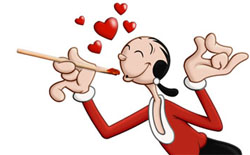 I recently confirmed the production method behind the animated Prego TV commercial featuring Olive Oyl. Renegade Animation utilized Flash for clean-up, but as you'll plainly see the spot was animated traditionally. According to a recent story on Cartoon Brew, director Darrell Van Citters referenced the Fleischer Popeye character model for the spot, and he and Scott O'Brien then brought her to life. Cathlin Hidalgo Polvani and Randy Sanchez joined the crew as assistant animators.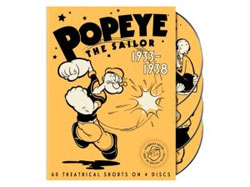 If you hadn't already noticed, a new Popeye DVD has been released. Popeye the Sailor: 1933-1938, Vol. 1 came out at the end of July, and this 4-disc set includes 58 shorts. The collection features Popeye the Sailor Meets Sindbad the Sailor (1936), a theatrical short which was nominated for an academy award.
Related Posts
Renegade Animation keeps cooking up new installments of their Flash-animated campaign for Wienerschnitzel, the American fast food hot dog chain. Here's one about a million …

The team at Renegade Animation keep on cooking! They've made at least a half-dozen, Flash-animated spots for Wienerschnitzel, and the latest promotes a fist-full of …

Back in November of 2013, we featured a new Flash-animated spot for Wienerschnitzel, produced by Renegade Animation. The follow-up is now airing on TV and …

One of TV's most famous duos, Tom and Jerry, are about set to return to US television. Starting on April 9th, Cartoon Network will begin …