September 28, 2007
by
admin
Bressler Demonstrating Doogtoons Process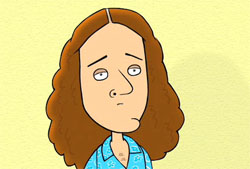 A note to Los Angeles-based readers… Doug Bresler, the creator of Doogtoons and the animator behind "Weird Al" Yankovic's animated Trapped in the Drive-Thru short, will be hosting a free seminar at the Santa Monica Apple Store this Saturday at 3pm. According to Bresler's site, he'll be giving a behind-the-scenes look at his most popular Flash-animated shorts and insight into the animation process. The event, titled Making Cartoons the Doogtoons Way, is scheduled to last 2 hours.
Bresler has also been animating on a popular GoPotato.tv series called Eli's Dirty Jokes. Here's the latest episode titled The Farmer's Daughters.
Related Posts
"Weird Al" Yankovic's world tour kicks off in May, and while we await his imminent global domination, enjoy this Flash animated interview, brought to life …

February 12, 2014

by

aaron

Doug 'Doog' Bresler is now releasing shorts at a breakneck pace – one a week. Here's his latest that investigates the ingredients in a delicious …

January 31, 2014

by

aaron

Doug 'Doog' Bresler has released a very innovative new interview project. I spotted it on newmediarockstars.com, where Bresler was interviewed about his interview. The subjects …

November 18, 2013

by

aaron

Myke Chilian just released a new FunnyOrDie exclusive short featuring the all-mighty, heavy-metal gods known as Gwar. Chilian wrote the 8-minute short along with Abed …
There are no comments yet, add one below.