Cuboy Rocks!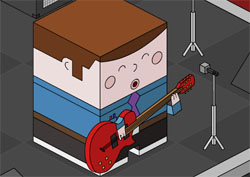 Back in February when Will Arbuckle and his pal Andy Dennis released the first episode, I called their Flash-animated show Cuboy "one of the more unique shorts I've seen in a while." I'll double-down on that, and gush a little more – the beautifully bizarre world of Cuboy has all of the ingredients to be become a Homestar-like breakout web hit. I'll detail those ingredients – a weirdo, bong-ready world filled with an iconic hero, t-shirt ready phrases like "slightly cloudy with a chance of Cuboy," an entirely engaging sonic experience (those transitions are almost as fun as the show), and a growing cast of twisted freaks.
Episode two, titled Super Duper Trooper, introduces us to a few of those twisted freaks – Super Tom and Esquire Padrino.
I'll set the egg-timer for some smart web portal to start funding this series. And…. go.
[link]