September 25, 2007
by
admin
Firth Releases Eigth Salad Fingers Episode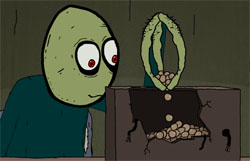 Yesterday, David Firth's eerie series Salad Fingers returned after a lengthy pause. Shore Leave, the 7th episode, debuted back in January of 2006, and several other animated and live-action projects have since filled Firth's plate.
Now Cupboard, the 8th Flash-animated episode, has released and we can all listen to Salad Finger's possessed radio, Roger, and slink into his 'safety cupboard.' Creeeeeeeeepy.
[link]
Related Posts
November 25, 2013

by

aaron

Salad Fingers is nearly 10 years old. David Firth first came to fame by way of the Flash-animated project on sites like Newgrounds back in …

Today the HuHa! team interviews David Firth, the creator and Flash animator of series like Salad Fingers. In this 25-minute video you'll see how he …

David Firth's latest Flash-animated work is titled Take This Pill, a sequel to his 2007 short Health Reminder:

Its been 3 years since David Firth gave birth to a new Salad Fingers episode, and this week he delivered the 9th installment. In the …
There are no comments yet, add one below.