Interview With Adobe's Richard Galvan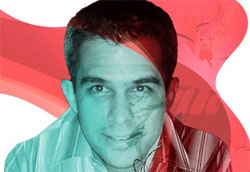 Back in March of this year, Adobe Systems' Richard Galvan moved from his spot as a Sr. Web Evangelist to his current spot as a Technical Product Manager for Flash. Galvan was at Macromedia before they were swallowed up by Adobe, and has since made a very public face within the design and animation community. Many of us in the animation community feel this increased attention is long overdue, and, as you'll read below, Galvan couldn't agree more. He recently came to Los Angeles, meeting with a variety of artists, and after sharing a drink with him at Flashfoward/Boston last week, it's high time he and I got an interview going.
AARON: Congrats on the launch of Flash CS3. What were the main goals as your team set out to build this release?
RICHARD: The goal is always to create a ground breaking release of Flash that gives our users brand new ways to express themselves. In this case, integration was a big goal. We knew our customers wanted improved integration with Photoshop and Illustrator, so that was a big focus for this release. We've since received some great feedback about these features from the community.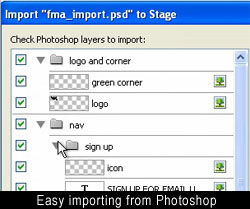 AARON: Is there similar integration for After Effects due in coming versions?
RICHARD: We are always looking for ways to improve workflows between our tools. AE and Flash integration was improved for the current release of Production Premium and we will continue to work closely with the AE team to ensure that we build even greater time-saving workflow enhancements.
AARON: Flash CS3 is important to so many communities – website, interactive and game developers, video distributors, mobile teams, software developers, and of course character animators. Many in the animation community see ourselves as a 'minority.' Are the needs of the design animation animation community as important as the others mentioned above?
RICHARD: It is true that in pure numbers animators make it a smaller percentage of our users, but their influence on Flash is considerable. Flash is a tool to create graphically rich interactive experiences, but at its core Flash is still an animation tool. That won't change. The concepts and techniques that animators use have been adopted by all of the other users you mention, and as animators evolve their techniques and tools I envision that the other users will expect Flash to keep up.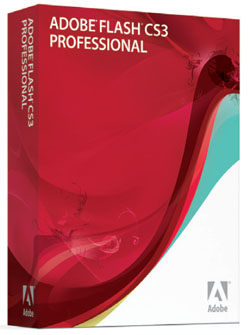 AARON: Have you heard feedback from the Adobe user-base to create an all-in-one design and animation tool?
RICHARD: Yes, I have heard that once or twice, but most of the time I hear people telling me not to make Flash more complicated than it already is. We have a lot of best-of-bread products at Adobe, and we believe that it's best to give users the right tool for the job and not try to create the all-in-one super tool that would overwhelm most people.
AARON: There's also been long-standing rumors in the character animation community that Flash and After Effects will somehow merge. Any truth to that rumor?
RICHARD: Merge? Rumor is the right word for that one. But continuing to work on getting the two products to be more tightly integrated is a goal of ours.
AARON: 3rd party developers have been creating rich plug-ins that further what can be accomplished in Flash – and many sell them for modest amounts. Subsequent releases of the software ship with functionality that often "put them out of business." How do you manage this tricky relationship with your audience?
RICHARD: Your right, this is a bit tricky sometimes. We have to take into consideration the affect that adding certain features will have on our developer community and weigh that with the benefits to our users. Many times the reason for even adding such a feature is that it is a highly requested enhancement by our users.
AARON: 3D animation teams typically have coders on staff, creating custom plug-ins or writing lighting code. Do you foresee the 2D character animation community utilizing ActionScript 3.0 – in particular, the ActionScript 3.0 conversion functionality?
RICHARD: I hope so. ActionScript 3.0 is the foundation for a lot of the features in the Flash Player and although we do our best to expose all of those capabilities within the authoring tool it's very difficult to provide visual tools for many of the API's that exist. Learning and using AS3 is a great way of extending the possibilities of what one can do with Flash.
AARON: Was it a unanimous decision amongst the Flash team to rebuild the drawing tools in the Illustrator format?
RICHARD: This was more of a customer request. For some time now users have been commenting on the difference in the behavior of the tools. Now that Flash is part of Adobe we felt that consistency was important.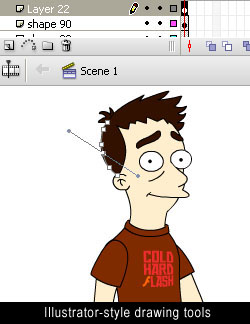 AARON: Has the overall vision of Flash's value and future changed since Adobe purchased Macromedia?
RICHARD: No, it hasn't changed but it hasn't stopped evolving either. I still see Flash as the ultimate digital canvas to allow our users imagination to be visualized. But we can't stop growing and we must keep up with all the changes constantly happening in our space.
AARON: Has the boot-time improved on CS3?
RICHARD: Yes. It's a small improvement, but considering all the new libraries that we included in this release for PS, Illustrator and other integration support it's a considerable improvement.
AARON: Animators stretch the timelines and file sizes of their Flash files to the maximum limits. Did CS3 add support for animators creating 12-minute episodes with tens of thousands of keyframes and 400mb files?
RICHARD: In every release of Flash we do our best to optimize and improve the performance of the tool, but honestly we don't test the tool with those parameters. I have seen complex animation samples that go beyond 12 minutes, but I can't say that the .fla file was in the range of 400MB. If you run into a specific example where the size of the project overwhelms Flash we would like to know the details. That way we can reproduce and test.
AARON: Have you had a look at the plug-ins offered at TrickOrScript.com, toonmonkey.com, 4gsw.com and animonger.com and if so, what's your impression?
RICHARD: I have seen a few of the extensions that are available on the sites you mention. I have not been able to test all of them, but I have a seen many that are really handy. It's encouraging to see the community enhance our tool with their own extensions and solve problems that we have not been able to yet. It's also a way for us to see where we should spend some time in future releases, especially when these extensions are fixing things that customers feel Flash should be doing.
AARON: Does your team keep tabs on the competitive 2D animation software ToonBoom or Anime Studio?
RICHARD: Competitive research is an integral part of product management. If you are not keeping up with what others are doing you will find yourself behind the curve very quickly.
AARON: If an animator has a feature request they'd like to see incorporated into a future version of Flash, is there a way in which they can have their voice heard?
RICHARD: Absolutely, they can send their request to our wish list.
AARON: The animation community has their hopes set on new functionality in Flash 10 – like an Illustrator-style customizable brush tool, the ability to warp symbols or the ability to mask with gradients. Do you feel like our community's needs align with the greater Flash user-group?
RICHARD: I don't want to give away too much here, but I'll just say that I really think that the animation community will be very happy when they finally see what we have in store for them.
AARON: Thanks, Richard.