Tek Jansen Begins New Adventures with Flickerlab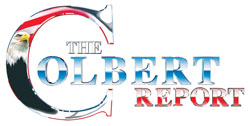 Flickerlab, a New York-based design and animation studio, has joined the Colbert Report production effort. New episodes of Stephen Colbert Presents Stephen Colbert's Alpha Squad 7: The New Tek Jansen Adventures began premiering on September 12th, starting with a visit to Jansen's early years in Beginning's: First Dawn which can be seen below. Backgrounds were designed in Photoshop and compositing was completed in After Effects, but all of the storyboards and animation was produced in Flash. On the Flash front, Animation Director Phil Lockerby was aided by Simon Ampel, Alissa Harris and Adam Sacks, an active CHF community member.

Previous episodes of Tek Jansen were produced by J.J. Sedelmaier Productions, who are better known for their work on Beavis and Butthead and 6 seasons of SNL's Saturday TV Funhouse, which included The Ambiguously Gay Duo, starring… Stephen Colbert.