Artist Profile and Animation Tutorial: Chris Harding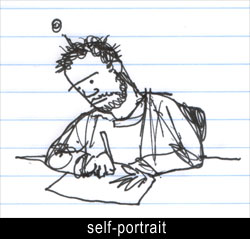 At last month's Flashforward event in Boston, I presented 5 artists' work and animation tips as part of a session titled One Man Bands – Flash Animators Going It Alone. For the last 6 or 7 years I've mainly worked on medium to large teams, and it dawned on me that most Flash animators around the world are probably going it alone. It sparked my curiosity, so I dove in and started interviewing. You may already know Chris Harding and his work, but below we'll look a little deeper into his taste, his body of work and his process.
Chris Harding is a 34 year old Flash animator living in Kansas City. He's a Mac guy and he's currently animating with Flash 8. His favorite website is mcsweeneys.net, and, at the moment, his favorite animated film is Bruno Bozzetto's Allegro Non Troppo. Here's a clip from this 1977 film.
AARON SIMPSON: Which animated film are you best know for?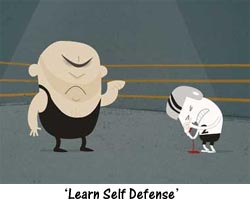 Learn Self Defense. It was brought on by this theory we had in the US in 2001-2004 that somehow we could fight our way to safety. That all the evil could be destroyed and the world would be safe. So I made a thing about it, and I just self-distributed it in festivals and such. It never really got picked up very much commercially, but it did play in a lot of theaters around the world.
AARON: Here's a clip from Learn Self Defense:
AARON: And here's a tutorial Chris assembled which details the creation of a scene from Learn Self Defense:
AARON: Do you prefer to work alone on your original projects?
CHRIS: I prefer working alone 99% of the time. But there are a few people I've collaborated with that I love working with and hope to again.
AARON: How do your projects typically begin? Do you draw or write first?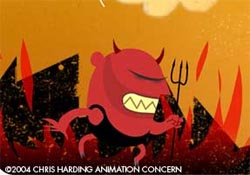 CHRIS: I'm more into the writing, even though I really love to draw. The frame by frame work can be tedious. But I think the results are great enough (or potentially great enough) to keep doing it.
AARON: How do you find the motivation to work on your original material after a long day at work?
CHRIS: The only way for me to motivate myself is with ideas. If I'm in love with an idea enough, and I can't communicate that idea by any other method I feel the strong need to animate it.
AARON: Do characters need to talk?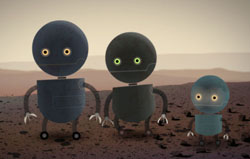 CHRIS: The short I'm working on now has no dialogue. So filled a notebook with sketches – hundreds of pages. It's a lot of fun to get away from so much dialogue and do something completely visual with music.
AARON: Tell us more about this new project.
CHRIS: I'm currently working on an untitled short on the subject of making a living. It features robots.
AARON: While we await that revelation of the title, let's watch a quick tutorial on how you built the head components for this short:
AARON: And you've also given us a sneak peek at a scene from this upcoming short, which is below:
AARON: How do you promote yourself as an artist?
CHRIS: Since I have a full-time day job, all this animation work is done for love. So I'm picky about what I take on. I have a rep– Duck Studios– that looks for projects and stuff. But I don't work that much. All day I work on other peoples' projects, so when I'm home I'd normally rather be telling a story that means something to me. Very selfish.
AARON: Is there a part of the animation process you'd like to have done for you?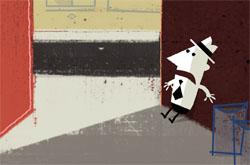 CHRIS: It's difficult to imagine doing that. I am a control freak. In some ways it's like asking what part of parenthood I would out-source.
AARON: About how many seconds can you animate on a good day?
CHRIS: There are days when I can animate 30 seconds. Other days, I sit and stare at the screen. Sometimes I am afraid to even look at or think about my work if I'm stuck or frustrated.
AARON: How long did it take you to learn Flash?
CHRIS: I'd say I started getting the hang of it after a few months.
AARON: What's been your experience with animation festivals?
CHRIS: I've screened in a bunch, but only attended a few. I had a great time and would go to more if I could. They're great for going directly to an audience. But as I understand it, only a handful really help you commercially– in that you might get any kind of distribution or broadcast deal. But it's wonderful to think of all those people watching your short on a big screen.
AARON: Do you find the paperless 2D animation process faster than traditional animation?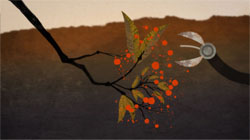 CHRIS: I suspect it's much more efficient. But I've never really done it any other way.
AARON: Do you use a Wacom tablet?
CHRIS: I use a Wacom a lot now, but it has been a very long transition. I used to draw everything on paper, scan it in, and trace it. But I've slowly gotten the hang of drawing right on the computer. I tape a sheet of vellum over my Wacom surface so it's more like I'm drawing on paper. The added friction feels more natural but wears out your stylus tips over time.
AARON: Has the web helped your career?
CHRIS: As with all of us on the internet, it has made me into a giant celebrity, and obscenely wealthy. It's also guaranteed to increase your penis size. (OK, actually it's helped a LOT. It's a great way to go straight to your audience.)
AARON: What online resources do you rely on?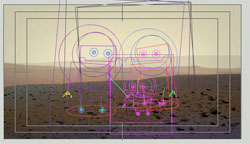 CHRIS: Without A Box, Cartoon Brew, Cold Hard Flash, WordPress, The Animation Show.
AARON: What recommendations can you offer to animators just starting out?
CHRIS: If you are planning on writing your own cartoons, you should read a hell of a lot of books and watch a lot of films that aren't animated. Treat your audience with respect, and they will do the same.