Cayford Swings By Apollo's Pad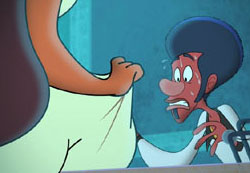 Bradley Cayford is amongst a small group of Flash artists who are elevating the Paperless 2D playing field. Adobe's Flash software has been labeled by many as a toy, or a degenerative force in animation, and folks like Cayford, who works out of Copernicus Studios, just keep cranking out beautiful work and ignoring the peanut gallery.
Cayford's latest project is a combined effort with Sony BMG and Galleon Holdings. It's called Apollo's Pad, a series of shorts that aim to revitalize music labels' back catalogs. Apollo's Pad features 2-minute comedy bits followed by classic songs re-recorded by contemporary artists. Here's The Monkees' chart-topping song I'm a Believer.

Thanks to Murray Bain for the tip.