October 17, 2007
by
admin
Dan & Jason Zombify The Cribs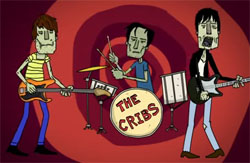 Hornet Inc. animation duo Dan & Jason give us an early Halloween treat with their latest animated project for the band The Cribs. Do You Wana Be Relevant is the new Flash-animated music video off the this UK band's summer 2007 release Men's Needs, Women's Needs, Whatever, and it features animated likenesses of the band slowly turning to zombies. Dan and Jason had animation help from Simon Ampel and Markus Wagner.
[link]
Related Posts
Dan & Jason, a directing duo featured here a number of times, are going to make you enjoy a medical supply commercial for the very …

Using Flash, 3DSMax and After Effects, director Guilherme Marcondes produced an intriguing new short that blends live action footage with vivid, animated characters. Below is …

Hornet Inc's directing duo Dan & Jason have just delivered a new spot for PPL Electric Utilities. The ad, titled Birds, was drawn in Flash, …

February 21, 2012

by

aaron

On the heels of developing their Office Buddies series with 20th Century Fox, the animation directing duo known as Dan & Jason have revealed their …
There are no comments yet, add one below.