The End of El Tigre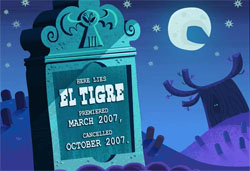 On the eve of Día de los Muertos, or the Day of the Dead, there is some sad news to report from the Flash animation front. El Tigre: The Adventures of Manny Rivera has been canceled. While I haven't seen any official news yet, I spotted two RIP notes on a pair of blogs, including one where I grabbed this image.
This series, created by Jorge Gutierrez and Sandra Equihua, featured an all-star crew that included Roman Laney, Dave Thomas, Gabe Swarr, Ben Jones, Ricky Garduno, Fred Osmond, Luke Cormican, Tod Polson, Katie Rice, Ray Morelli, Gerald De Jesus, Aaron Horvarth, Katrien Verbiest, Eddie Trigueros, Chris Battle, Sean Szeles, Steve Lambe, Tim Yoon and many others. From what I've heard, the crew has been plowing forward on a short 2nd season order, but it looks like the axe has fallen. The series pushed the boundaries of what Flash is capable of – with heaps of action scenes and kinetic, lush environments. Heck, it was perhaps the first Flash-animated series to get high marks from Cartoon Brew's notoriously tough-critic Amid Amidi.
In keeping with Day of the Dead tradition, we shouldn't mourn the end of the road, but instead celebrate a fantastic series. I'd love to read comments from fans and friends of the crew – as I'm sure you agree with me: El Tigre is an exceptional series. Congratulations to the entire team.