October 22, 2007
by
aaron
Finnish Animators Work Overtime on Trilogy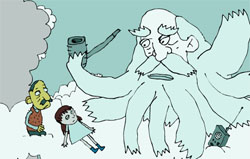 Finnish animators Mark Ståhle and Tatu Pohjavirta have completed the 2nd part of their Death Trilogy, a series of Flash-animated shorts. This installment is titled Jatkoaika (Overtime), and it centers on a young ice skater's adventures in the afterlife.
At first, I was a bit put-off by the puppet-style of the production. It is most certainly "limited" animation, but the design is so interesting, and the manner in which the puppets move really caught my eye. Of course, there is the highly unusual and even touching storyline, that eventually delves into the realm of black comedy.
The film has also faired well at Newgrounds.com.
[link]
Related Posts
November 19, 2014

by

aaron

At this weekend's Animation Breakdown event, Newgrounds takes over at 10:30 pm on Sunday night. Hosted at Cinefamliy on Fairfax Avenue in Los Angeles, the …

November 3, 2014

by

aaron

In 2004, I was working at Warner Bros. TV Animation, hoping to convince the senior management that Flash was a viable TV production tool. Flash …

November 25, 2013

by

aaron

Salad Fingers is nearly 10 years old. David Firth first came to fame by way of the Flash-animated project on sites like Newgrounds back in …

With nearly 100 million views in a single month, Ylvis' breakout track The Fox is undoubtedly a phenomenon. The hook "What Does The Fox Say" …