Halloween Flash Animation Treats By the Bagful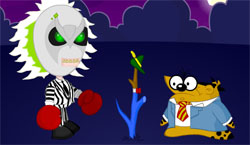 Happy Halloween from Cold Hard Flash! As usual, the animation community has delivered a sackful of animated treats for our viewing pleasure. Thanks to several of you who submitted (and posted in the comments below), we've got a bumper crop this year.
First is Jibblies 2, this year's Homestar Runner Halloween short.
Your second Flash-animated Halloween treat is from Happy Tree Friends. This 1-minute episode is titled Boo Do You Think You Are?

Okay, one more Halloween episode from Happy Tree Friends – here's Out of Sight, Out of Mime:
The gang at Two Animators created this little Halloween short for your ghoulish pleasure:
This Yo Gabba Gabba! "jingalong" may not have been created in Flash, but I'll post it nonetheless. The song, which I absolutely love, is titled It's Halloween and it's by I, Monster, and the animation is by Kluncklick.
And here's a Halloween episode from the Flash-animated series Edgar & Ellen – it's Trick or Twin.
And if you still haven't had enough Halloween animation, head over to Mike Adair's site for a quick animation scare, and Alex Savin created a funny Halloween loop that's worth checking out.