October 29, 2007
by
admin
Holiday Elves Working 'Round the Clock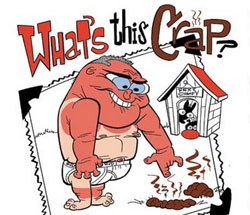 For the upcoming holiday season, I've been pushing hard to get some cool new stuff in the CHF Store. One should be ready soon, and a few others will hopefully be ready by December 1st. If you head over to John K's website, you can get a sneak peek at what we're cooking up. And if you move quick, you can get your comments in and help us think it through and vote on your favorites.
***** UPDATE *****
Here's one t-shirt in progress.
Related Posts
November 3, 2014

by

aaron

In 2004, I was working at Warner Bros. TV Animation, hoping to convince the senior management that Flash was a viable TV production tool. Flash …

February 15, 2014

by

aaron

You might have read about Miley Cyrus hiring The Ren & Stimpy Show creator John K (John Kricfalusi) to create animated clips for her just-launched …

September 27, 2010

by

aaron

Episode 2 of Toon Wolf has been delivered to Channel 101, and it features references to Teen Wolf, Back to the Future and Paula Abdul's …
There are no comments yet, add one below.