Meth Minute vs. Mike Tyson
The latest Meth Minute features an animated version of Mike Tyson that will be familiar to Nintendo gamers from the 80s and 90s. Mike Tyson's Punch-Out was a successful cartidge game for the the original Nintendo platform, but he sure didn't talk like this (NSFW). Pull up ringside for Mike Tyson's Brunch Out.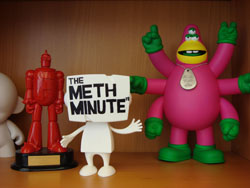 I actually sat down with Dan Meth (the creator of The Meth Minute 39), earlier this week during a brief visit to Next New Networks, and I got an eyeful of his process.Dan typically records 3 or 4 episodes of this weekly series at once. His voice direction is loose, and while he arrives at the studio with an outline of where the dialog should go, he relies on improv surprises to deliver the funny. Home Movies and Dr. Katz were both inspirations for the series and for his process. During a record, the actors typically riff for about 45 minutes, then Meth will edit it down to his minute-long episode.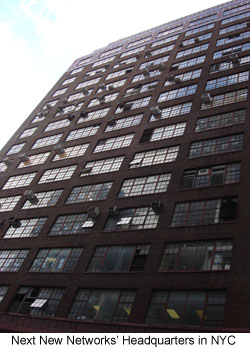 His team is fairly small. Dan has some help with the music, but he writes the lyrics himself, and he has animation interns from Pratt and The School of Visual Arts who come in 2 days a week. By the time he's done, each production takes about 10 working days to complete, so it shouldn't surprise you that they banked 17 episodes of this weekly series before they launched the viral hit, first episodeInternet People.
It surprised me to hear that pop-culture junkie Meth is the equivalent of a Luddite in his apartment. While he's equipped with the latest technology at work, once he gets home, he eschews cable TV and the internet for books.