New 12-inch Cintiq Hits Europe in November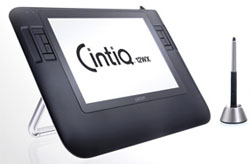 I just read about a new model of Cintiq over at engadget.com. If you're not familiar with the Cintiq – it's a digital drawing tablet from Wacom, but unique in that you draw right onto the screen. Most Wacom tablets out there sit below the monitor, detached from the results, and it can be a long learning curve to get your intended line strokes to look right.
The bad news is that this new Cintiq 12WX is far smaller than the 21UX, and it has only been announced for the European market. And now the good news – the price of the 21-inch model ($2,500) has held up a price-barrier to artists ready to go the paperless route, and this new model should help out with a $1,679 price tag.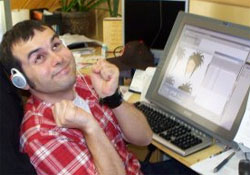 It's hard to overstate the impact this technology has had on the animation industry. While exceptional 2D animation has been, and always will be, done with a trusty pencil, the Cintiq 21UX has offered immense time savings and allowed artists otherwise frightened of technology to cross the digital divide.
Plus, they're just alot of fun. The Cintiq 21-inch models are like the corner office of the animation studio – inducing jealousy and quiet coveting. At Fatkat animation in New Brunswick, they dropped Cintiqs on a number of artist's desk, and the glee was captured in a series of photos and shared on a recent blog post.
Jared Chapman, a talented artist and recent father living in Austin, wrote this humorous bit about his friend's new model:
…believe the hype. They are amazing! It makes you a better artist. Really. I did an experiment. Because I'm one-eighth scientist. I gave my three month old baby a pencil and some paper. He couldn't even draw! Then I gave him a Cintiq. Now he's a full time freelance artist bringing in six figures! I've quit my job and devote all my free time to gardening now.
I'd love to hear from you – what's been your experience with your Cintiq? Revolutionary or revolting?