Product Review – Pencil Pro Studio Edition 2007
I've seen a great deal of poor Pencil animation online recently, and its my assumption that its the tool's fault. For instance, look at how stiff this walk cycle is:

Let's have a look at the toolset, and see if we can uncover what went wrong.PENCIL PRO – STUDIO EDITION 2007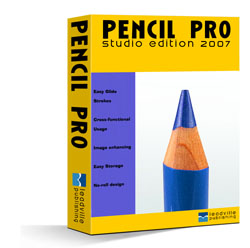 This toolset's legacy goes way back. It was used by animation pioneers like J. Stuart Blackton, Winsor McCay and unsung Disney hero Ub Iwerks. It was behind some of the most eye-popping, heart-stopping, jaw-dropping animation sequences in history, including Gertie's first steps, Mickey's first ride in the steamboat, and Snow White's battles with the evil Queen. The Pencil Pro toolset was also part of the recent Winx Club production effort out of Italy, which resulted in this stilted, wobbly, unwatchable episode:

Pencil Pro has helped create so many great animated moments, but after watching this Winx Club clip, it's a wonder they've managed to keep their doors open.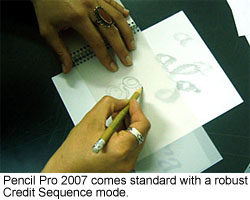 The 2007 Pencil Pro model hasn't evolved much, if any, since the 1800s. It comes standard with a hexagonal, thin, wooden cylinder and you can choose the graphite, clay or charcoal version. At time of purchase, you can also pick from varying degrees of hardness, but don't be fooled, you can not upgrade to different hardness after purchase. But regardless of the hardness you choose, the toolset can be used to create beautiful artwork or meaningless drivel. From our exploration of video sharing sites like YouTube, more often than not Pencil Pro is used to create sophomoric bathroom humor. This rather crude Pencil animation used a 3B version of the tool.

Out of the box, the model we tested required a 1-minute drawing tip install. The process is called 'sharpening' and much to our dismay, the sharpening toolset is sold separately. Sharpening is required frequently, and we can only assume this is a software bug. We searched for an FAQ inside the box, but never found one.
THE UPSIDE:
Easy Glide Strokes – Pencil Pro has no match in this category
Cross-functional Usage – Good for grocery list writing and nervous chewing
Image enhancing – with each stroke, a darker line can be drawn (caution – 12 strokes tore through our test paper)
Easy Storage – fits in most pockets but can leave a graphite stain
No-roll design – hexagonal shape isn't just stylish, it prevents the toolset from rolling off your drawing table
THE DOWNSIDE:
Manual Erase – handy eraser location, but leaves behind a residue – Could use an 'undo' function
Poor Battery Life – Our first one was dead (and 1/10 of its original size) after a week. If it is rechargeable, it did not ship with a power adapter
Color Adjustment – can't adjust the color of a line once applied – a manual resharpen didn't even do the trick
Ear Holster – tucking our Pencil Pro behind our ear worked until we forgot that we put it there
All in all, the Pencil Pro toolset seems sadly quite dated. New digital tablets and Paperless 2D software packages may be far pricier, but their functionality is light years ahead of Pencil Pro. But perhaps we're missing something – recent blog comments about Flash seem to think new technology is to blame for all the animation industry's woes.
Next week we'll be reviewing the new 2008 model Horse & Buggy from Nissan.
Let's hear your experiences with the Pencil Pro toolset. Is it sharp or a dull tip?