October 17, 2007
by
aaron
Quebec Animator Wins California Animation Prize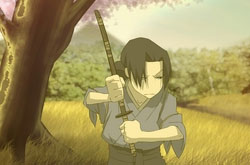 Michael Nesbitt, an artist living in Aylmer, Quebec, has found local fame for his Flash-animated anime short Yuki Tani No Shurabi. The 6-minute film recently won an award at the California International Animation Festival. According to an article in the St. Thomas Times Journal Nesbitt began the film in school, and recently returned to the unfinished film and is now selling his own DVDs. Below is a trailer for the short.

And here is how the local news covered the story.

Related Posts
Tennessee Tuxedo, a 1960s animated series, has returned on the branded entertainment channel sillychannel.com, which is sponsored by Trix. As you may know, Trix is …

Jake Clark, an animator working out of Titmouse's Vancouver shop, produced this fun, Flash-animated short for the 2015 5 Second Day. It's titled Techno Pond:

January 15, 2015

by

aaron

Check out this new clip from the new Niko and the Sword of Light series. Its "a fantasy adventure series for kids ages 6-11 that …

December 11, 2014

by

aaron

LA-based comedian Deepak Sethi, who has writing credits on Family Guy and Brickleberry, created this new animated Mondo series titled Dee Tremendous. Its about an …
There are no comments yet, add one below.