Soup2Nuts Lands Seafood Spots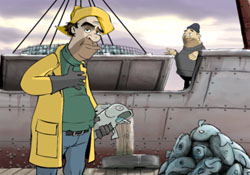 Soup2Nuts, the Massachussets-based animation studio, recently created a series of spots for a Boston seafood restaurant chain. Legal Sea Foods tapped Soup2Nuts and co-directors Evan Sussman and David Trexler to bring the spots to life. Mike Nordstrom took up the lead animator duties while Bob Thibeault designed the characters. The three spots can be seen below.

Soup2Nuts is better know for their animated series work, including original series Home Movies, Dr. Katz, Professional Therapist and, more recently, WordGirl, which premiered on PBS only weeks ago. The Flash-animated series aimed at 6 to 8 year olds follows "Becky Botsford, a mild-mannered fifth grader who transforms into WordGirl, a caped crusader and definition dynamo." Here's a clip.