Tip, Tricks and Tricycles at Flashforward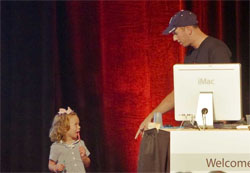 Chris Georgenes, the man behind Mudbubble and keyframer.com packed the house in Boston for his 2007 Flashforward presentation Animation Tips and Tricks. Georgenes, a self-taught animator, invited a special guest to his presentation – his daughter, Andrea, who also happens to star in several of Chris' shorts. As promised, Georgenes posted all of the FLA files from his presentation so we can all dive in and tinker. Below is the opening clip from his presentation.
Also check out Chris' photos from the event on flickr.