Three Legged Legs and Quaife Amp It Up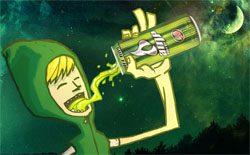 Three Legged Legs is a "directorial studio" in Santa Monica that just can't seem to do anything bad. Not that they're trying, but I just know when I click on a link to their work – I need to get a napkin ready for the drool. They did the GE Samurai commerical, the eco-minded, short film Humans! and more recently a gorgeous color-explosion for Havaianas.
More recently, the formidable artists at Three Legged Legs teamed up with BBDO for Mountain Dew's Amp Energy Drink. They produced three :15 second spots in 5 weeks – all traditionally animated, and they were smart to bring on a very special CHF'er – Kathleen Quaife. Her effects animation really stands out in these pieces, and she was proud to announce that she drew a great deal of the water, fire, lightening and smoke in Flash. The majority of the production was actually completed in Toon Boom and finished in After Effects, with the traditional animation drawn right into the computer with Wacom tablets. Congrats to the 3LL team, creative director Casey Hunt and to the other animators Eric Benson, Jahmad Rollins and Dylan Spears.