2007 Holiday Card Round-up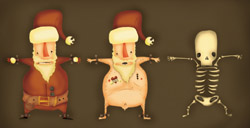 The holiday season typically sees a flood of great holiday animations, and this year is no different. Here's a pile of shorts and even one interactive piece…
Perhaps the most unique one is from Angel De Franganillo at antiheroe.com. It's a Santa operation kit – slide his clothes off, drop the scalpel on his chest and start removing parts. Hey! I didn't make it – don't shoot the messenger elf.
The gang at Mukpuddy gave Santa a few drinks before animating this card…
Peter Slattery's holiday card needs a preface – his clan takes part in a holiday challenge each year, and for the 2007 holiday season they had to make a commercial for mince meat. Joseph Troy, an animator at 9story Entertainment in Toronto, Canada, created this one: And here's a link to Joe Corrao's card, and one from Pileated Pictures.