Annie Awards a Big Night For Flash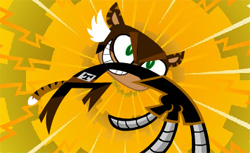 The 35th Annual Annie Awards will likely be a big night for Ratatouille, Surf's Up and Persepolis, but February 8th, 2008 will also be a night to celebrate Flash animation. The Annie Awards, for those unfamiliar, are what some Americans consider the "Oscars" of animation, and the nominees were announced today.
El Tigre: The Adventures of Manny Rivera, a Flash-animated show that airs on Nickelodeon, leads all TV series with 4 nominations, including a nod for Best Animated Television Production and an individual nomination for Jorge R. Gutierrez, the co-creator of the series. It should also be noted that 2 of the other 4 nominees in the Best Production category are also Flash-produced – Peep and the Big Wide World and Little Einsteins (which also utilizes After Effects).
Next, John Kricfalusi, a true pioneer in online Flash animation, will be receiving a Windsor McCay Award for his series The Ren & Stimpy Show and "use of artist-driven Flash animation."
Lastly, Jonathan Gay, Gary Grossman and Robert Tatsumi, the creators of Flash, will receive the Ub Iwerks technical achievement award.
I've already marked my calendar – and can't wait to trumpet Flash at stateside animation's biggest night.
Unrelated to Flash news – my cousin, Elizabeth Harvatine, was nominated in the Character Animation category for her stop-motion work on Moral Orel. Go Liz!