December 3, 2007
by
aaron
Ramsay Gives Birth to Honkbarn.com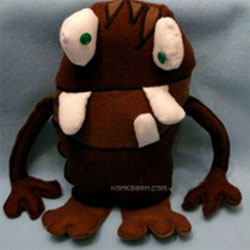 Honkbarn, one of the most unique series of 2007, has a new home. Honkbarn.com launched this month, and Todd Ramsay's three episodes can be viewed there, along with his blog and some new merchandise. If you beg him, I'll bet they make more handmade stuffed characters.
Episode 4 will reportedly be arriving later this month. Congrats to Todd on the site launch, and also on fatherhood!
[link]
Related Posts
One Big Hapa Family, a new feature length documentary about a inter-racial marriage in Canada, includes a number of excellent animated sequences. Below you can …

December 9, 2010

by

aaron

Todd Ramsay, who you may know as the creator of Honkbarn, recently took part in a feature documentary project. One Big Hapa Family explores Japanese …

The boys at Ka-Ching Cartoons have been mighty busy, churning out a new kids show titled De Grobbebollen Maken Lol (in Dutch "lol" rather appropriately …

As auditors hint that General Motors may not be worth saving, we turn to Nick Anderson and Todd Ramsay. The two have summed up the …
There are no comments yet, add one below.