January 11, 2008
by
aaron
Campion Opens the Animation Door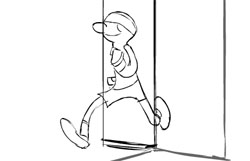 Pascal Campion, the most prolific artist you may ever meet, is re-opening the door.
Several months back, Campion animated a Bill Plympton-esque exploration of what could happen while attempting to walk through a door.
Today he returned to the door jam, animating another attempt, and the results are equally as fun and frenetic.
[link]
Related Posts
Pascal Campion, an animator who we've featured here a number of time on ColdHardFlash, is the subject of this documentary short, titled Inspirational Artists: Pascal …

November 4, 2009

by

aaron

Following up on his 2008 project for the alternative rock duo know as They Might Be Giants, Pascal Campion has created a new music video. …