Esurance Customer Drives to Toon Town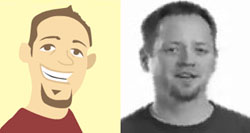 Paul Mackinaw, an Esurance customer since January 2002, was in attendance last year at a silent auction fundraiser for the San Francisco Urban Services YMCA. After besting his competitors in a bidding war, Mackinaw had won an opportunity to "play a villian" (via voiceover) in an upcoming Esurance TV spot – promoted as a $300 value. But for Mackinaw the opportunity turned into something priceless . According to Kristin Brewe, Esurance's Director of Brand & Public Relations, when her team discovered that Paul "was an Esurance customer from very early on, and saw how articulate and engaging he was, we decided to offer him a starring role with Erin Esurance." Mackinaw wound up on-camera in two Flash-animated TV spots – Paul Gets Animated and Paul Saves Some Green. For more on his experience, check out the microsite.
Here is Paul Saves Some Green.
There are no comments yet, add one below.