January 30, 2008
by
aaron
Ka-Ching Drops Their 3D Machine on Rotterdam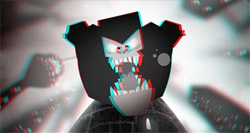 International Film Festival Rotterdam, Joost van den Bosch and Erik Verkerk, the Dutch artists behind Ka-Ching Cartoons, debuted their new 7-minute Flash-animated short The 3D-Machine. Inspired by 50s monster movies, this film is actually produced in traditional 3D format (glassed encouraged, but not required), and the team used Photoshop and After Effects for the backgrounds and Premiere for the editing. The film is about "a professor who invents a machine that can bring everything he draws to life."
You can view a trailer over at the Ka-Ching website.
[link]
Related Posts
November 17, 2014

by

aaron

One of the mighty Pegbarian brothers, Thijs Koole, just shared his graduation short, which he produced at Utrecht School of Art. Its a rather abstract, …

A new full-length, Flash-animated feature film is emerging out of the Netherlands. Gioia Smid directed this new, 65-minute feature based on Pim & Pom, a …

The boys at Ka-Ching Cartoons have been mighty busy, churning out a new kids show titled De Grobbebollen Maken Lol (in Dutch "lol" rather appropriately …

February 24, 2009

by

aaron

Dutch artist Han Hoogerbrugge animated this new, Flash-animated music video for the electronic dance music group Pet Shop Boys. Love Etc is the first single …
There are no comments yet, add one below.