Swarr Gets Credit For King of Kong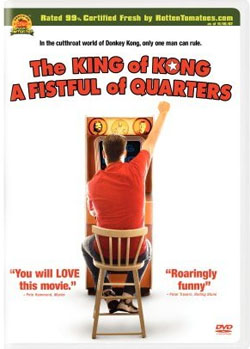 If you missed King of Kong: A Fistful of Quarters last year in theaters, you should seek out the DVD, which is being released on January 29th. This documentary about a pair of Donkey Kong experts fighting for the all-time high score is both inspiring, hysterical and heartbreaking.
The DVD is shipping with a handful of featurettes and a bonus short titled A Really, Really Brief History of Donkey Kong, which you can see below. It was written by I Am 8-bit's Jon Gibson and directed by Flash-pioneer Gabe Swarr, a Spumco vet with heaps of TV animation experience at Warner Bros. Animation, Disney and Nickelodeon.
The VO was provided by El Tigre voice actor Eric Bauza and the character design was led by Swarr and Steve Lambe. Tony Mora (another Spumco vet) provided the animation and the After Effects artistry was handled by Matt Gadbois.
[MEDIA=2]
Link spotted on IGN.