Annie Awards Celebrate El Tigre and Flash Animation
This past Friday, my wife and I attended the 35th Annual Annie Awards, which were held on the UCLA campus for the first time. As you may have read here a few months back, it was a proud night for Flash animation.
The big winner at Royce Hall was undeniably Pixar's feature film Ratatouille – which wrapped up 10 awards. On the TV side, two series took home a pair of trophies – Robot Chicken and Nickelodeon's Flash-animated series El Tigre: The Adventures of Manny Rivera. The show, which was created by Jorge Gutierrez and his wife Sandra Equihua, walked away with awards for Best Animated Television Production for Children and Character Design in an Animated Television Production, a category Gutierrez was nominated for two years ago. Congrats to Dave Thomas, Tim Yoon, Gabe Swarr, Roman Laney and the crews at Boulder Media and Six Point Harness. [read Cold Hard Flash interviews with Gutierrez and Yoon]
El Tigre was also nominated in two other categories:
Monica Kennedy for Character Animation in a Television Production
Shawn Patterson for Music in an Animated Television Production
Below is one of the El Tigre clips Patterson submitted for the awards. Its from episode 9, titled Yellow Pantera.
Sadly, it looks like this award-winning show will be ending this year, but it will surely go out on a high-note. Nickelodeon hasn't picked up the second season, and as Patterson put it on his MySpace page "all great things come to an end."In the Best Animated Television Commercial category, Acme Filmworks' Powershares spot, titled Escape Average, took top honors. This weekend, I asked Dave Wasson, the director of the commercial, about the ceremony and production experience:
When Patrick Warburton announced that our Powershares spot had won I was completely caught off guard. At past Annie Awards, I'd been nominated quite a few times, but had ever won. So I had sort of given up on the idea of taking home a trophy. I tried to get Ron Diamond and Gwynn Adik to join me on stage but they wouldn't budge (they'd decide to give me "my moment in the sun"). I hadn't written anything down so I gave a short, rambling thank you speech and staggered off stage.

The schedule on this spot was crazy; three weeks total from the time I got the outline from the agency until the day we delivered the finished spot. That said, of all of the projects I've directed, it was actually one of the most fun. I really clicked with the agency creatives right from the start, and they were completely open to me taking their idea and running with it (incidentally, in case any agency executives are reading this, this is the best recipe for good commercials – I'm just sayin'). Dave Knott and I completed the storyboard in two days. The following day I made the animatic. Using Flash I was able to create the character designs and backgrounds in record time.

Even though our crew was small, they were super talented, which made it all the more enjoyable. I contacted Brendan Burch at Six Point Harness Studios and he hooked us up with a couple of his best guys. Saharat Tantivaranyoo did a beautiful job with the character layouts, and James Krenske's animation is kick ass! Back at Acme Filmworks, I worked with Nic Mermet on After Effects to composite all the elements together and add all of the multi-plane parallax. All in all, it was really a great experience.
[Watch Wasson's Powershares commercial here at Cold Hard Flash]
Back at the Annie Awards, Flash animation continued to echo throughout the night. The creators of Flash, Jonathan Gay, Gary Grossman and Robert Tatsumi, were honored with the Ub Iwerks Award, which highlights excellence in technical achievement. I won't go into much more detail on this, as a we'll be posting a lengthy interview with all three guys tomorrow.
But in the meantime, here's a clip that played just prior to their award. It's a collage of various Flash-animated projects from the last 10 years. Antran Manoogian, the president of ASIFA-Hollywood, asked me to assemble the clip, and I was happy to oblige. It's simply a hint at all of the great Flash animation out there – we surely left out some incredible projects. Thanks to Antran for the invitation, and to Les Perkins for helping me put this together.
[MEDIA=17]
Alongside John Canemaker and Glen Keane, John Kricfalusi accepted his Winsor McCay Award, which honors "career contributions to the art of animation." John K's The Ren and Stimpy Show was credited with "reinvigorated television animation," but he was also noted for his pioneering work on the internet's first cartoon series – The Goddamn George Liquor Program, which was animated entirely in Flash.
There were also a handful of nominees on Friday representing Flash-animated projects:
BEST ANIMATED SHORT SUBJECT
Chip Wass' short Mascot Prep – part of Disney's Shorty McShorts' Shorts project – animated at Boulder Media
ANIMATION PRODUCTION ARTIST
Natasha Liberman – Growing Up Creepie – Discovery Kids
BEST ANIMATED TELEVISION COMMERCIAL
Esurance Homeowners spot – W!LDBRAIN
BEST ANIMATED TELEVISION PRODUCTION FOR CHILDREN
Little Einsteins – Disney Channel
Peep and the Big Wide World – Discovery Kids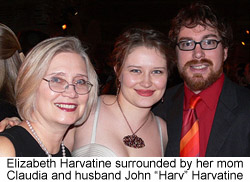 Lastly, I'd like to congratulate my cousin, Elizabeth Harvatine, for her nomination in the Character Animation in a Television Production category. She was honored for her stop-motion animation on Adult Swim's Morel Orel, and her pal Eric Towner took home the trophy for his work on another stop-motion project – Robot Chicken. (inset photo credit – Tennessee Reid Norton)