Cowles Teams with FlickerLab on Skitterville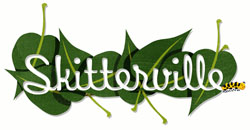 David Cowles, whose illustration work has appeared in dozens of magazines ands newspapers, teamed up with New York-based studio FlickerLab to create Skitterville – an animated pilot. The world of Skitterville centers on a caterpillar named Bob Chubby and all of his insect buddies.
Cowles explains:
Flash was a perfect match for the characters, since I first did the character designs in Freehand, which is also vector based. The animators at FlickerLab did a great job of assigning body languages for the various characters, and once we got on the same page about going for that 50′s limited animation look, the results were amazing.
Here's the test reel:
Director Harold Moss and producer Sally Anne Syberg recently answered a few questions about the project.
AARON SIMPSON: Can you tell us more about the plans for the Skitterville test reel?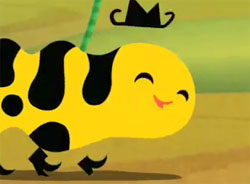 HAROLD MOSS: We are working with David Cowles, the creator of Skitterville, to find a home for all our good friends in Skitterville. It's a beautiful place filled with fabulous bugs of all stripes and sizes, and we're hopeful at finding a place for it soon, either as a 1/2 hour animated series, or as shorts.
AARON: How did FlickerLab end up teaming with David Cowles on the project?
SALLY ANNE SYBERG: Michele Weiss and Nancy Kanter at Playhouse Disney approached FlickerLab in 2005 about a pilot for their preschool block. We did a test and subsequently the pilot. David is an incredibly talented fellow and we all got along very well. After Playhouse Disney passed on the pilot, we stayed in touch with him and continued to work on Skitterville and his other properties as well.
AARON: Can you explain the production pipeline involved in the project, and who was responsible for each step?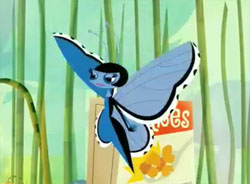 HAROLD: For the test reel, Animators Nikolay Nachev and Phil Lockerby took David Cowles' characters, which were created in Freehand, and converted them into Flash files. In Flash, they built some basic walk, crawl, flutter and fly cycles for each. FlickerLab Art Director Zartosht Soltani worked off of David's background sketches and painted several full backgrounds. We combined these cycles and backgrounds in After Effects to give a sense of each character's personality, and how they moved through their world. This was edited to a first pass at a theme song composed by me and composer David Wilson.The pipeline for the 22-minute pilot follows:
David Cowles created the show and designed the characters and the world of Skitterville. He sold the show as a pilot to Playhouse Disney, and worked with their writers to develop the script.
Playhouse Disney brought us together on the FlickerLab side, Harold Moss directed, Sally Anne Syberg produced, Frank Gresham animation directed, Zartosht Soltani art directed, Phil Lockerby and Nikolay Nachev were lead animators, David Zung and Frank Gresham created storyboards.
We received designs from David Cowles, and script from Michele Weiss at Disney
Zartosht Soltani worked with David Cowles character designs and sketches to create the look of the world. It was a conversation between them, carried out in with lines and ink. This conversation continued with David throughout production regarding the personality of the animation, the look of the characters
David Zung created rough storyboards based on the script and rough VO record
Harold Moss and Sally Anne Syberg cast the show
Nikolay Nachev and Phil Lockerby began creating animation samples and walk cycles
Harold Moss directed the voice-over in New York and LA
Frank Gresham tightened up the storyboards based on the edited voice track

Storyboard animatic was edited
Backgrounds and animation began
Compositing was done with exports from Flash and Photoshop backgrounds in After Effects
Sound Design started by Tom Lino
Final music composed by Harold Moss and David Wilson
Online edit completed at FlickerLab
AARON: David is a well-known illustrator, but he's also an animator – did he have a strong vision for how the short should move?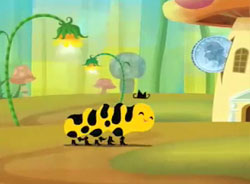 SALLY ANNE: David did have a strong vision for how the characters could move but our animation director, Frank Gresham, and lead animators, Phil Lockerby and Nikolay Nachev, were very enthusiastic about Skitterville and lavished their attention and skills on the characters. David knows that others are more skilled at animation than he is and gave FlickerLab plenty of creative and interpretative freedom.
HAROLD: This was a continuation of the conversation between the artists at FlickerLab and David Cowles. He had a very strong sense of who these characters were, having lived with them in his head and on his screen for years. He imparted the essence of this to the animators, and they in turn offered up their interpretations. This back and forth helped yield a real richness to the characters and their style of motion.
AARON: Who wrote the soundtrack for the pilot?
SALLY ANNE: The soundtrack for the pilot was written by Stuart Kollmorgen who was at Red Dog, but now works as Big Yellow Duck.
AARON: How long has Flickerlab been utilizing Flash in animation productions?
HAROLD: FlickerLab started its life in 1999 creating an animated Flash series for the web, This Modern World by Tom Tomorrow.
[MEDIA=22]
HAROLD: We soon turned that expertise to film and television, creating the first Flash-animated content to be broadcast by Cartoon Network – two pilots for Adult Swim:
Saddle Rash
[MEDIA=21]
The Finkel Files
[MEDIA=20]
HAROLD: We also produced the animated sequence A Brief History of the United States of America for Michael Moore's Bowling for Columbine. [MEDIA=19]HAROLD: We have since used Flash in countless productions for broadcast, film, and online.
AARON: What else is in the pipeline at FlickerLab?
HAROLD: What isn't? We have a live-action puppet/animation kids series in development and a documentary series combining animation and live- action. We are continuing our animation of Stephen Colbert's Tek Jansen shorts that run during his show. We are currently animating a second in a series of spots for the American Heart Association. We recently animated a beautiful spot for St. Joseph Medical Center in Baltimore.
AARON: Thanks, Sally Anne and Harold. Beautiful work.