February 27, 2008
by
aaron
Mason Squeezes Out Kid Man and Lemon Promo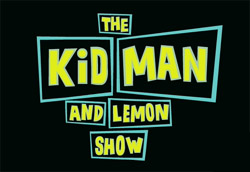 Chuck Gammage, who animated on Who Framed Roger Rabbit?, has created a new series concept titled The Kid Man and Lemon Show. To bring the show to life, Gammage called upon Jamie Mason, who directed and animated this promo below for Chuck Gammage Animation Inc.
Mason's crew included a talented roster – Rex Hackleberg provided the conceptual art and design, layouts were designed by Graham Falk, inks by Mike Geiger and BGs by Clive Powsey.
[MEDIA=23]
I also found a plush sample of this new crime-fighting duo, designed by Rachel Peters.
Related Posts
Canadian animator Mike Geiger's latest animated effort is a music video for Hobo Divine's track Bully on the Subway, which features some very interesting audio …

Mike Geiger just revealed a pilot he crafted for Nickelodeon International back in 2009. It looks like the series won't continue on at this point, …

Here to save your day, Mike Geiger presents the Super Duper Super Hero. Weekly episodes arrive on Mondays…

After a long haitus, Mike Geiger has produced a new installment for his Flash-animated series County Ghost. The fifth episode is titled The Gift of …