Rektor Calls Upon Agens To Capture Princess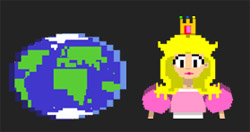 To create a Flash-animated music video for their song Princess, the Norwegian band Rektor called upon their fellow countrymen Peter Måseide and Kim Lid, directors at Agens.
Harboring a passion for C64 (Commodore 64) graphics, the Rektor team swims in 80s pop culture. Want proof? Check the band member's names – Magnum, Don Johnson and, my favorite, Jan F. Kennedy (okay, so they slipped in one 60′s reference). So it should come as no surprise that their video is filled with allusions to Pac-Man, Track & Field, Space Invaders, Rampage, Pitfall, Chopper Command, Super Mario Brothers and even Michael Jackson's Thriller. Any other references I missed?