Viewers Cry Foul Over Flash Animated Super Bowl Spot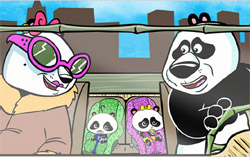 According to an article in the New York Times written by Stuart Elliott, two Flash-animated Super Bowl commercials drew heavy viewer complaints. The Salesgenie.com spots were posted here earlier this week, and the spot titled Panda features what some consider offensive accents.
According to the article, An Ad With Talking Pandas, Maybe, but Not With Chinese Accents, the CEO of InfoUSA (the Salesgenie.com parent company), Vinod Gupta, is now in hot water.
What's your take – offensive? Funny? Both?
Thanks to Ryan Simmons for the tip.